These popsicle stick Christmas crafts are fun for kids to make for the holidays.
If you're looking for fun Christmas activities for kids, this list of Christmas crafts that can be made with popsicle sticks is full of great and doable ideas. Whether you're looking for a craft for a class party, an activity to keep the kids busy during a holiday party or just a fun afternoon art project to make with the kids during winter break, there's sure to be something on this list that will strike your fancy. I can't believe all of the cute Christmas crafts you can make out of popsicle sticks!
These popsicle stick sled ornaments are 3-dimensional and include a photo and are made with the mini size craft sticks. This would be a great keepsake ornament to give grandma and grandpa.
This popsicle stick santa ornament includes a free printable for the face and makes it really easy to just glue the sticks onto the cardstock cutout. Add a pom pom hat topper and boom… super cute ornament!
These Christmas airplanes with the child's photo make me laugh.
Popsicle Stick Airplane Christmas Ornaments
Cuteness alert! These nutcrackers are so adorable and fun to make. I love their bushy eyebrows. LOL.
Popsicle Stick Nutcracker Craft
You could use these giant snowflakes a million different ways and boy would it be fun to come up with all the different patterns.
Giant Popsicle Stick Snowflakes
Popsicle stick toy soldiers? Too cute! What little one wouldn't love to have a whole army to play with?
Here are three cute popsicle stick Christmas ornaments… a snowman, santa and tree. They're all so cute!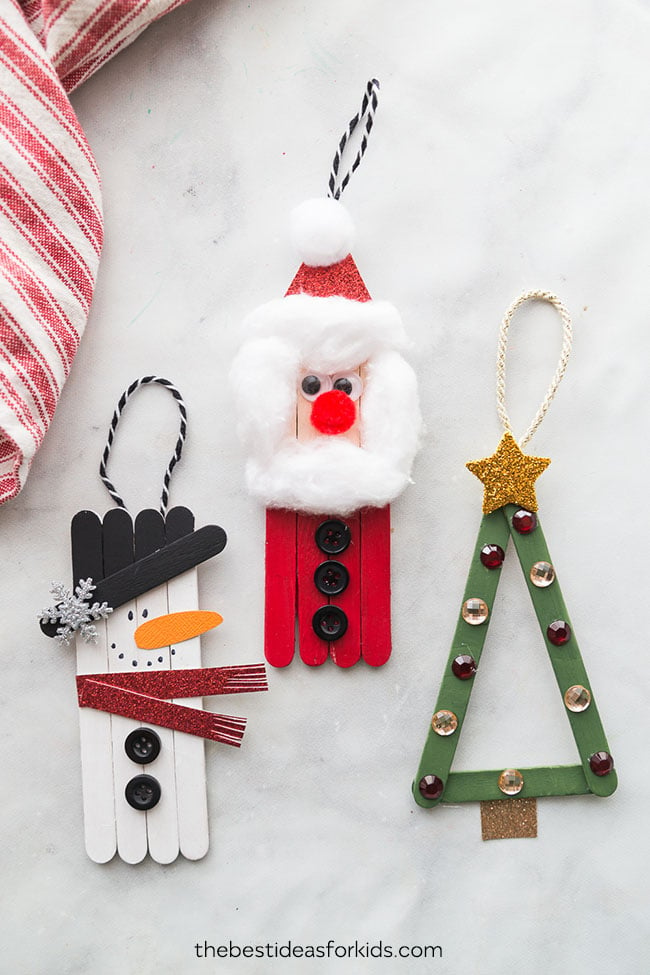 Snowman, Santa and Triangle Christmas Tree
I love how these popsicle stick Christmas trees are covered in sequins. The sparkle adds a lot.
Popsicle Stick Christmas Trees
Everything is cuter in miniature and these tiny popsicle stick ski ornaments are no exception.
These Star of David ornaments would be fun to decorate and can be used for Christmas or Hannukah.
This take on a popsicle stick snowflake is unique because it's also a weaving craft.
Woven Star Snowflake Ornaments
Do you have a big stash of buttons like I do? Make button snowflake ornaments by gluing them onto popsicle sticks!
Okay, these little elf popsicle stick ornaments are just fun. I love their pipe cleaner twisty hats.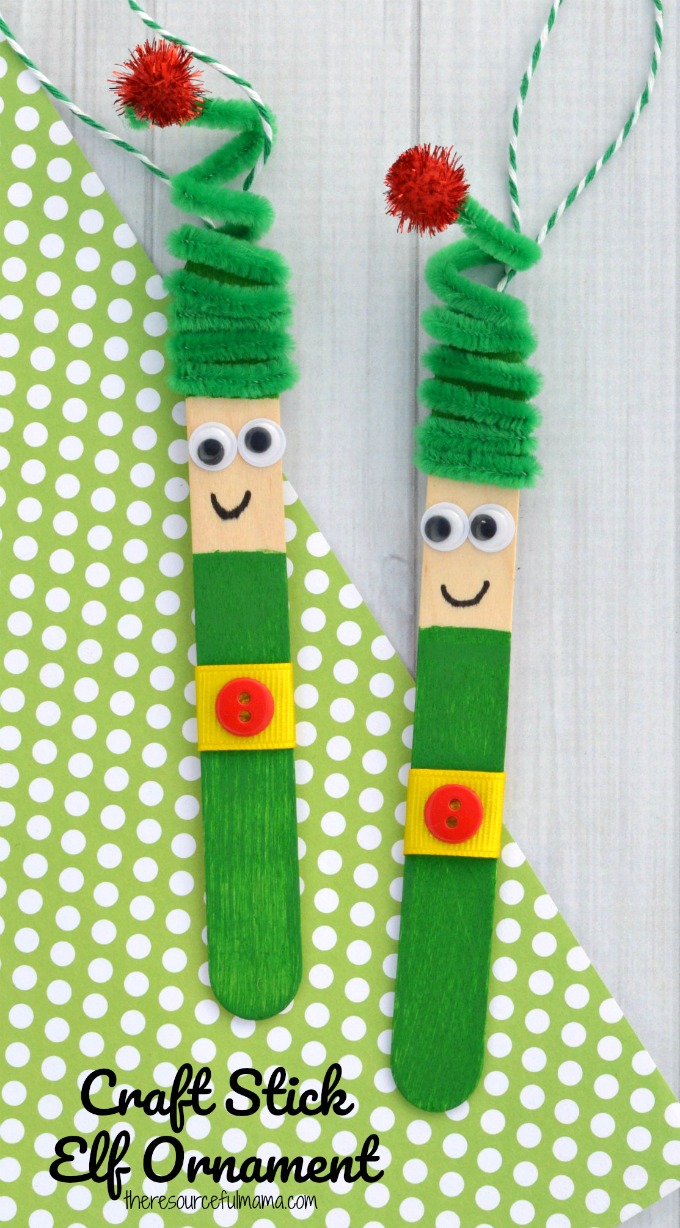 Make a Rudolph the Red Nosed Reindeer ornament with just three popsicle sticks. I love the pom pom red nose.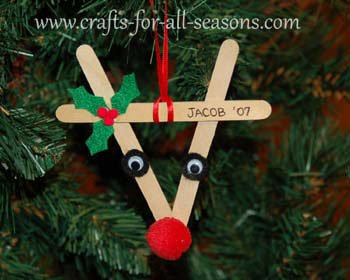 Have you ever used wood stain on popsicle sticks? This stable ornament shows just how chic it can be. I can picture these on a rustic farmhouse styled tree.
A snowman hat popsicle stick ornament looks so cute adorned with felt leaves and red button berries.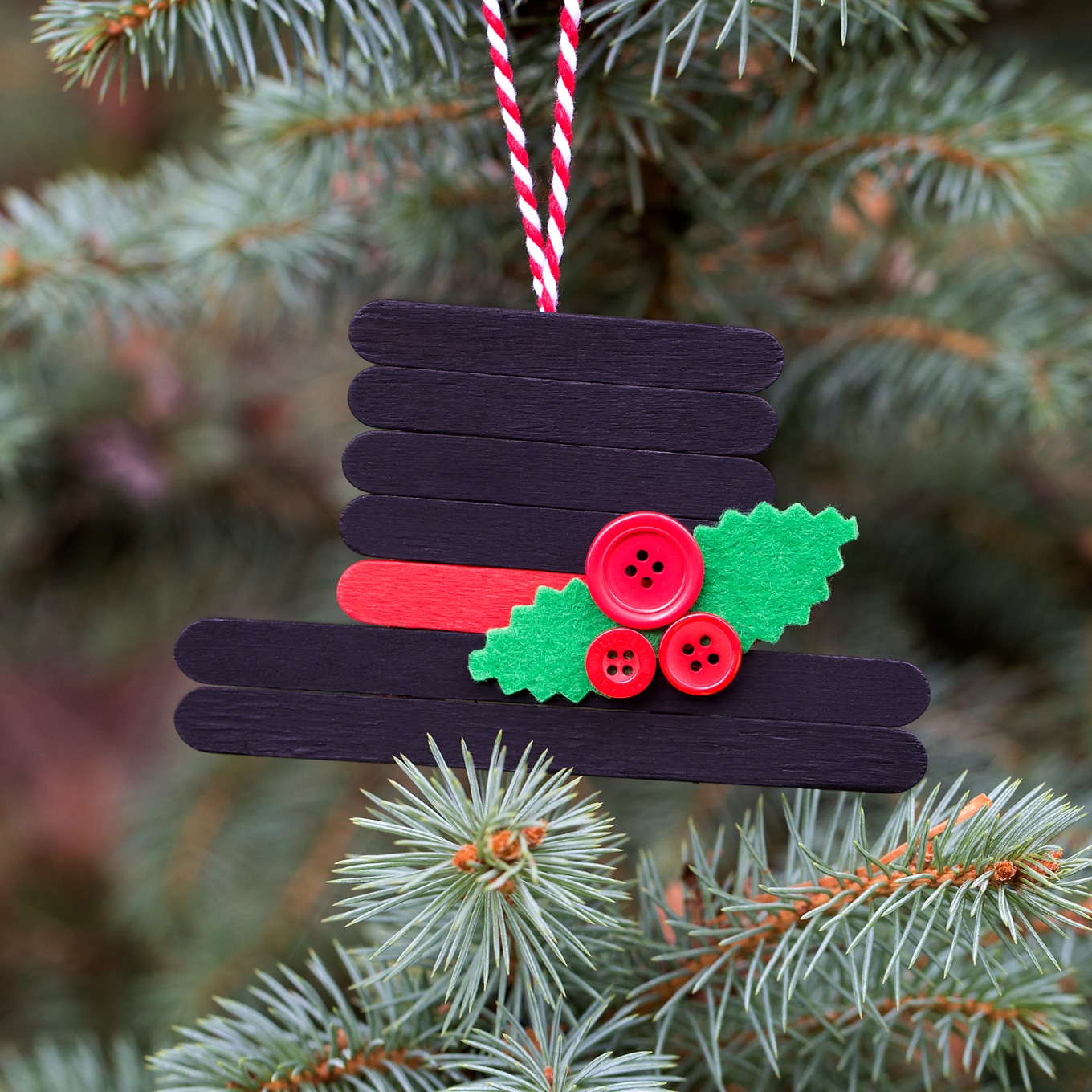 Popsicle Stick Snowman Hat Christmas Ornament
I love, love, love this gingerbread house made of popsicle sticks. You could decorate it a thousand different ways, so it would be really fun to do in a group.
Red trucks have been trending for Christmas the last few years, so why not make one out of popsicle sticks? If you click through on the link, there's even an option to add a photo.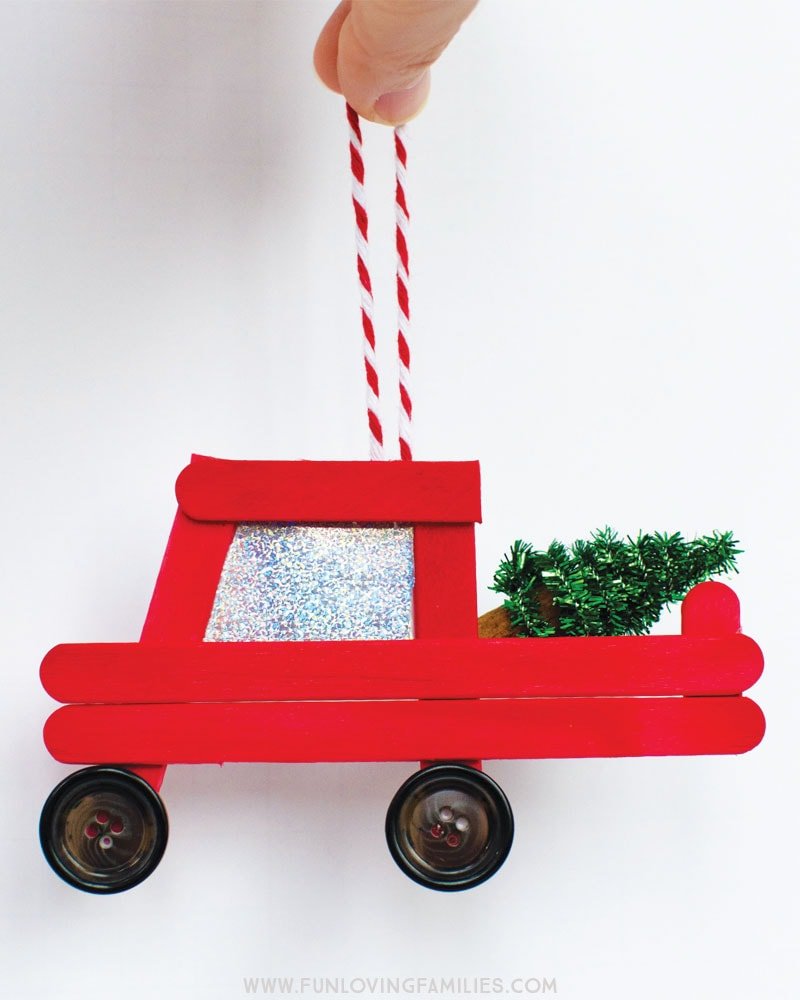 Here's another version of the mini ski ornament. The red and white coloring with the stripes and snowflake gives it a Nordic touch, don't you agree?
I love the little washi tape scarves on these cute snowmen.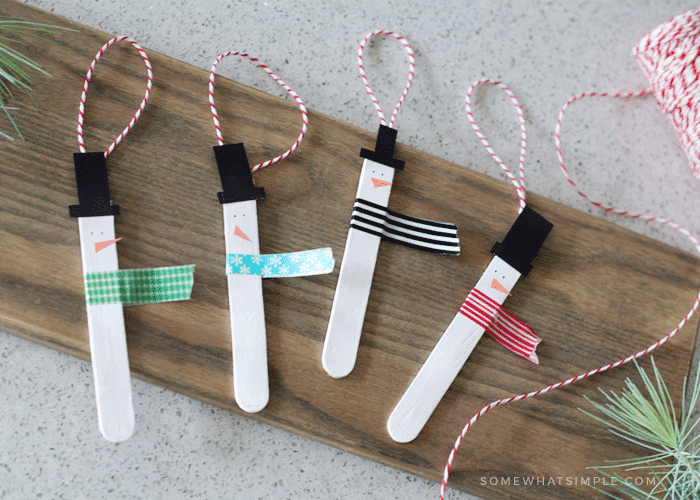 Popsicle Stick Snowmen Ornaments
This popsicle stick angel is really darling and could be decorated a bunch of different ways. You could make a whole bunch of them with different skin and hair colors, different accessories, etc. Oh, that'd be fun!
Popsicle Stick Angel Christmas Ornament
Make a manger ornament with a cute little Baby Jesus poking out the top.
There you have it! So many cute ideas, right? I hope you found one that's perfect for you. I am definitely going to be making a few of them with my kids. Christmas crafts are so much fun and such a great way to build excitement and spend quality time together during the holiday season.
Pin it so you don't forget it!