There are some DIY techniques that intimidate me. Staining wood used to be one of those. Then I stained a few projects and realized that there is absolutely nothing to be scared of. This is a really easy finishing technique! In fact, I think it's easier than painting in many ways.
I'll prove how easy it is! I purchased
THIS
unfinished wood bookcase from Wayfair: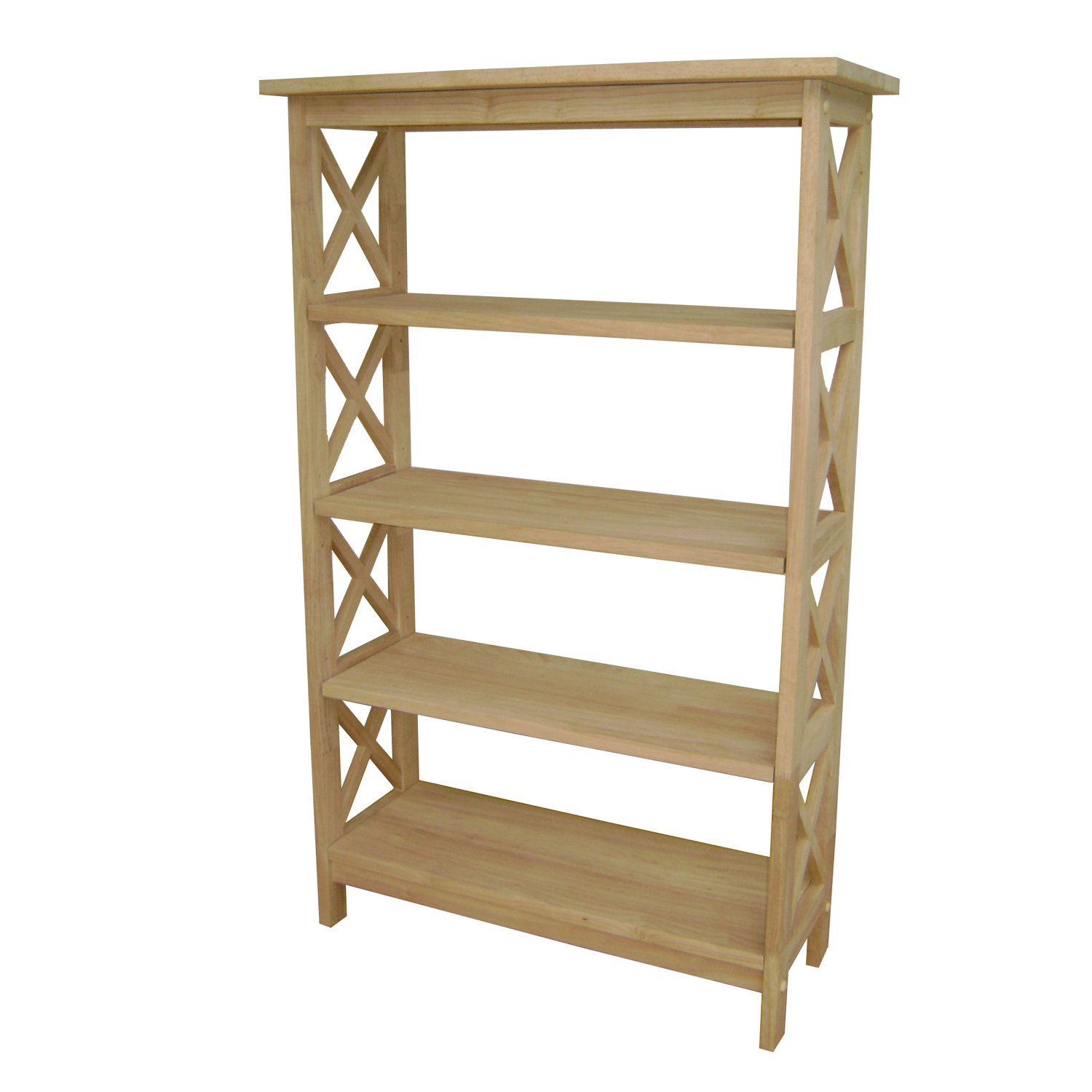 $103 for a real wood bookcase seemed like a steal to me. You can stain anything made of wood. It just needs to be clean, raw wood that's free from old stain or paint.
I wanted to give my bookcase an antique, aged wood finish. To do that, you will need all of the supplies in the photo below:
1. Minwax Pre-Stain Wood Conditioner
2. Minwax Wood Finish in Classic Gray 211
3. Minwax Wipe-On Poly in Clear Satin
4. Lint-free rags that can be thrown away (I cut up old socks… they work great!)
5. Rubber gloves
6. Steel wool, very fine
Wood conditioner helps the stain go on smoothly and evenly. I think of it as insurance. It's easy to apply… just wipe it on with a rag.
A little goes a long way, so one jar will last you forever. This is how much was left after I did the entire bookcase:
Next, apply the stain within 2 hours of applying the wood conditioner. I wanted a light gray color, so I just wiped the Classic Gray Wood Finish on and kind of buffed it in. If you want a dark color, you put more stain on and let it sit longer. Or you can do several coats. You don't want to leave any wet puddles of stain and you don't want any streaks or drips. This part is way easier than it sounds, trust me. Just wipe it on, yo.
If you are having a hard time getting the stain into cracks and corners, try using a cotton swab. Worked like a charm for me!
Once everything is stained, let the project dry for at least 8 hours. Then you are ready to apply a clear finishing coat to protect the wood. I chose Wipe-On Poly because I did not want a shiny finish, but I needed some protection since it's a bookcase. Wipe-On Poly is easy to apply. Like the name suggests, you wipe it on. Ha!
I did three coats of poly, sanding gently with fine steel wool in between each coat.
Here's what the sheen looks like after three coats. It's not shiny, but it makes the whole project look expensive.
Because I used my uber-fancy sock rags, clean up was a breeze. I just threw the rags away! (Although you do need to be cautious–this stuff is flammable, so don't go throwing old fireworks into the garbage at the same time).
Are you ready to see the finished bookcase?!?
I am LOVING how the bookcase turned out. The gray stain gives it so much character! Look at this close up… gorgeous!
If you've been scared of staining, I hope you'll give it a try. It really is easy.


Thank you, Minwax, for sending me the products I needed to finish this project! P.S. This post contains affiliate links