These easy miniature stockings are stuffed with useful items anyone would love to receive. Enjoy a free printable hand-lettered "Merry Christmas" holiday gift tag too.
Some people are super hard to shop for. What do you get a teacher or neighbor you barely know? Especially these days with so many restricted diets and food allergies, I've started giving out more and more non-food gifts during the holidays.
One of my favorite parts of Christmas is finding fun stocking stuffers for my kids. We always do candy in their stockings, but it's so fun to pick out little gifts for each kid, just simple things like lip gloss, new hair bands, fun toothbrushes or hand sanitizer. So I thought to myself, "Why not make up little stockings to give out to friends too?"
So I headed to Target and checked out their aisle of stocking stuffer ideas.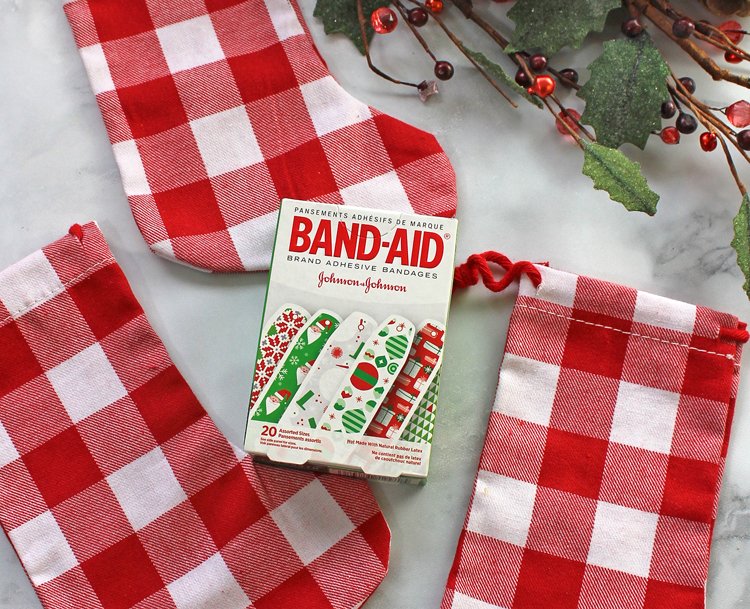 Cute, right? We normally buy plain Band-Aids so it's a fun little treat for my kiddos to get fancy ones in their stockings.
The mini buffalo check stockings are also from Target and they are just the right size for filling with my favorite stocking stuffers. So I bought a few packages of Band-Aids, some lip balm, breath mints, hand sanitizer, wrinkle release spray, and other fun little items I found in the stocking stuffer and travel sections of Target and filled each little stocking with useful gifts that are perfect for giving to those hard-to-shop-for people on my list. Don't underestimate the impact of a cute mini stocking to make everyday necessities seem like a darling gift.
This is what the download looks like. You'll be able to get a lot of gift tags out of one sheet of cardstock. Score!
Each tag measures about 2×3 inches. Download the design, print it out on cardstock, cut the rectangles apart, punch a hole in one corner and attach to the stocking with a bit of festive ribbon or baker's twine.
Dance teacher. Check.
Bus driver. Check.
Now I call that a Christmas win!
Like this idea? Pin it so you don't forget it!